Mynurva has partnered with the University of Glasgow, one of the prestigious Russell Group of leading UK research universities, to deliver mental health therapy to its 29,000 undergraduate and postgraduate students; something that has proved even more important since September 2020 when hundreds of Freshers faced lockdown and isolation as Coronavirus cases escalated on campus.
Initially approached to provide digital mental health support for its Study Abroad cohort of students living or working overseas as part of the Erasmus+ programme, Mynurna was able to supplement the university's togetherall peer-to-peer support for any students needing a higher level of support or those who would benefit from access to a professionally-trained therapist. 
Since that time, the Powered by Mynvura mental healthcare service has proved so beneficial that Glasgow University approached Mynura to expand the support available to meet increasing demand.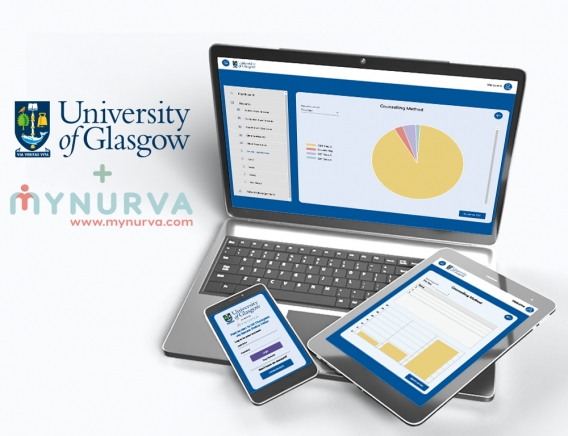 Supporting a wider student population
Mynurva has been able to extend its services in less than 4 weeks to support UK-based students on a specifically designed pathway. Now the university's therapy service can refer students to Mynurva to meet the increasing student demand.
The tried-and-tested pathway has been adapted to allow integration with the university's therapy service for screenings and triage before making any referrals to Mynura. In this way, students are placed with the right level of therapist from the outset, maximising the benefit gained from each session.
Mynurva has been able to customise its highly versatile platform for the University of Glasgow, incorporating its colour palette and branding, offering students a recognisable and cohesive mental health support framework. This platform and way of working can quickly be adapted to other universities as the need for outsourced student mental healthcare grows.
Powered by Mynurva
Supporting students and providing the right help at the right time can be particularly challenging for universities with large international student populations and Erasmus+ students living overseas as part of their degrees.
As a purely digital healthcare solution, Mynurva can deliver a same-day mental health and wellbeing service when it's needed, delivered by UK-based professional therapists. We are ready to help other universities provide the support they need for any students suffering a mental health crisis.