As our lives return to a post-COVID normal, psychologists are increasingly raising concerns that the pandemic has either sparked or amplified much more serious mental health problems – and these may linger in the long term. Specialists have also warned in the British Medical Journal that 'the mental health impact of the pandemic is likely to last much longer than the physical.'
Many people often suffer from an increase in social anxiety and germaphobia-based obsessive compulsive behaviours during the pandemic. They may have involuntarily found themselves with fewer close connections when social distancing was in place, and may find it challenging to rebuild these connections now.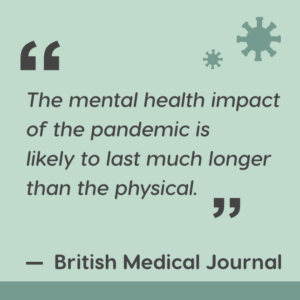 They may also suffer from the inability to take public transport or eat out due to their heightened obsessive compulsive behaviours. 
One reason psychologists are concerned about the long-term effects of COVID on mental health are the existing insights from past pandemics. For example, during the 2003 SARS global outbreak, the impacts on mental health has lead to a 30% increase in suicide cases. 
How Mynurva supports
employees with Long Covid 
This anticipated surge in need for fast access to mental health places Mynurva as a solution. Your employees may suffer from the long-term impacts of COVID-19 on their mental health. This may impact their performance at work which may affect organisation-wide productivity.
Mynurva offers fast and direct access to digital therapy via end-to-end encrypted video with no need for a GP referral. 
Our service allows your employees to:
self-refer to a therapist within 24 hours and 

book an appointment for a time that suits them, 7 days a week, including evenings.

flexibly access the support they need, when they need it – wherever they are. 
Mental healthcare should be offered to employees to help them combat the impacts of Long COVID. Mynurva provides high quality therapy to improve employee morale and organisation-wide productivity.