Mynurva was delighted to be part of GIANT Health's recent Healthy Innovators Live TV roundtable, hosted by Barry Shrier, Founder of the GIANT Health Event.
Discussing the latest in health innovations with Denise Silber Emcee, Co-Founder of VRforHealth and Zain Sikafi, our Co-Founder & CEO, the conversation centred on the biggest issues and challenges in healthcare delivery.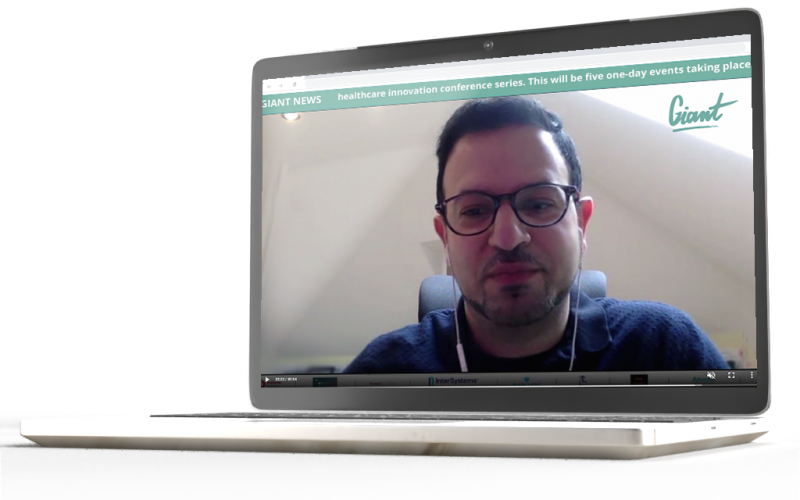 What challenges are facing the healthcare sector today?
Our NHS staff are the real heroes. The last 12 months have been a time of change and adaptation across all parts of society and the healthcare ecosystem has risen to that challenge. Covid has led to quick uptake of digital healthcare and the rollout of innovative solutions so the pandemic has actually enabled technology and telemedicine to come to the forefront across all healthcare disciplines. 
Mental health is unbelievably important but it's never been properly recognised until now; Covid has changed that and it is now seen as an equally important part of healthcare provision.
In terms of mental health and wellbeing services pre-Covid, the waiting time for NHS referrals was around 6 months, and unfortunately, that's only worsened due to the Covid crisis, but at Mynurva we can help our fantastic NHS by reducing waiting times for mental health support from over 6 months, to just 2 days.
How does AI impact today's healthcare?
We've used Artificial Intelligence (AI) for medical chatbots in the past. In emerging markets there is a demand for AI-driven healthcare and wellbeing solutions, particularly across MENA (Middle East and North Africa), where we've delivered a successful text-based therapy. We also use AI as a way to provide daily positivity hints and tips around health and wellness. We're hoping to roll out something similar in the UK through Messenger.
What about Digital Therapeutics?
Digital Therapeutics (DT) is another interesting area where doctors are using digital tech to improve or obtain a better therapeutic result as part of the usual medical intervention – perhaps by remotely monitoring adherence to taking medication or functionality of implants – where AI will pick up on that non-adherence. As more innovators come up with their own solutions, there will be a wider definition of what Digital Therapy or Digital Intervention is. For example, sleep apps are now on GP guidelines for treating insomnia so digital apps are now a treatment in themselves.
Does VR have a role to play?
In terms of clinical evidence for treatment of phobias and PTSD, there is some evidence that VR works, but the evidence is limited. For us, accessibility is key and we make it as easy as possible for everyone to access our support. The price of VR headsets makes it much less accessible, but pretty much everyone has a smartphone, computer or other web connectivity to access our help. As big manufacturers get involved and costs come down, we'll review our position on VR but accessibility is a key pillar for Mynurva.
What's your advice for today's digital healthcare innovators?
There are so many start-up resources now – like GIANT Health – that weren't around a few years ago. I believe in lean methodology; start with a real pain point and get in there quickly with a low-cost solution from a minimalist standpoint with patient accessibility front of mind. The key to success is how quickly you can learn, execute and keep your runway clear.
What does the future hold for Mynurva?
We believe we're transforming mental health globally by making it accessible, same day, using live video and introducing innovations like our Messenger text service. Quality, digital patient-centred healthcare and innovation will become the new normal. Patients will demand that. We shouldn't expect mental health to be provided by volunteers and charities, it can and should be provided by medical professionals.
We're planning to take our service to even more countries; we're looking for more NHS partners to join us so we can help to bring down their mental health provision waiting lists from 6 months to the same day, and we're also expanding our team.