Mynurva is proud to be working in partnership with  Kernow Health CIC, as we continue to deliver fast online psychological therapy across the populations of around 200,000 patients across Cornwall. Kernow Health CIC  is a social enterprise focused on securing the future of Cornish General Practice. Kernow Health CIC delivers Primary Care Services within Cornwall.
During our partnership, Mynurva dramatically reduced the patient waiting time from 6-months to less than 48 hours. Working closely with GPS local stakeholders and patient groups Mynurva has been able to develop an online therapy service that is fast, efficient and cost-effective. Additionally, our digital platform unlocks clinical time by preventing unnecessary GP and A&E visits. Mynurva's remote digital therapy solution ensures patient engagement and improves patient outcomes by delivering fast access to online therapy.
The Benefits of Mynurva Digital Therapies:
No Waiting Lists – appointment within a day

Access to a online network of UK qualified therapists

Fast access to live video therapy

7-day availability – including evenings and weekends

Simple online booking system
Saves time and money by reducing administration time

Analytics and reporting dashboard – Aggregated and anonymised

Custom branded platform – your brand and colour palette

COVID secure – live video therapy consultation anywhere

Care and service quality in line with NHS standard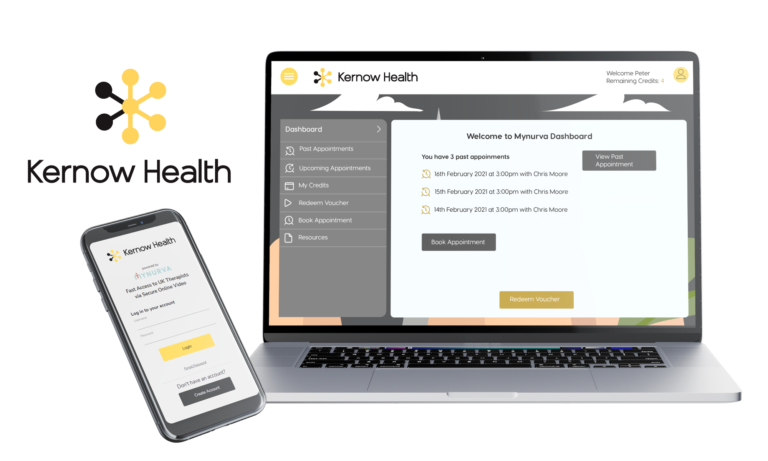 By supporting Kernow Health CIC with outstanding online therapies, Mynurva improved patient waiting times, as patients can now schedule live video therapy sessions. Our convenient Mynurva booking system adheres to any schedule. This means patients can book online appointments that are both convenient and remote. Patients can schedule live therapy sessions when using our convenient booking system. 
Our flexible platform allows patients to choose an appointment that fits their schedule, optionally like out-of-hours appointments (after 5 pm and weekends.)The benefits to partnering with Mynurva are that our digital platform is flexible and we can immediately connect organisations to a network of UK qualified therapists. This provides fast access to psychological therapies, which we believe will prevent poor mental health.